It's a core belief at Maple Bear that offering high quality bilingual Canadian education provides our students with more than just another language.
We know from the research that learning two or more languages from a young age has many benefits, some of which include:
Stimulates brain development.
Enhances English literacy skills.
Strengthens cultural identity.
However, during this period of lockdown while our students are learning from home, our Maple Bear parents may be wondering how to continue the momentum achieved from English acquisition at school.
How can parents, who are believers in bilingual education, maintain learning a second language at home?
WAYS TO MAINTAIN ENGLISH LANGUAGE GROWTH
Frequent experiences in oral English are what the children need and there are many ways to maintain their English language growth, whether a parent speaks English or not.
Reading Aloud
Reading aloud has been shown to improve literacy, thinking, and academic skills. It also inspires a lifelong love of reading. So, reading together with your child in either or both languages should happen on a regular basis. And it's a chance to celebrate the joy of reading with your children.
Here are some strategies to use when reading aloud:
Read with expression and have fun with the story.
Ask 'W' questions like who, why, which, as well as open-ended questions to build critical thinking.
Have older children read aloud to you.
(Find more tips on Reading Aloud in this blog post or watch this short video on the importance of Read Alouds in the Maple Bear classroom)https://www.youtube.com/embed/cs6j_WWG0LQ?feature=oembed
Conversational Opportunities
Children need to watch, listen and imitate English. Better English, especially for non-readers, comes from speaking and hearing it. So, talking to your children regularly and consistently builds on their English skills.
Here are some ideas you can incorporate into your daily routine:
Make a grocery shopping list together.
Talk through a recipe and cooking instructions.
Look at family photos together and share the memories.
Talk through imaginative play.
Use counting games and songs with actions.
Play games in English and ask them to explain the rules.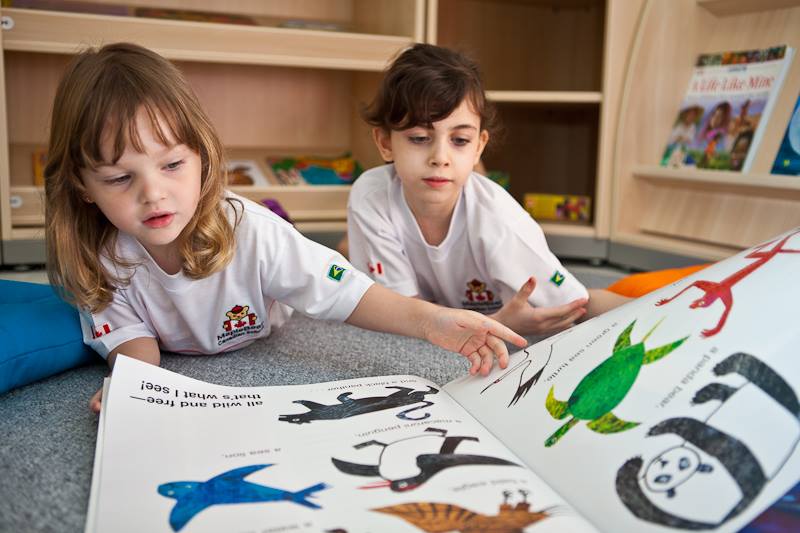 Other Activities to Practice English
There are many accessible ways to encourage English language acquisition. Remember that consistent exposure to language helps develop brain connections which support literacy.
Arrange online playdates with an English-only zone.
Learn from an online sports tutorial in English, like a soccer drill or dance choreography.
Music is a great way to provide fun English practice for all ages.
Get creative by producing English-only family videos.
REPEATED EXPOSURE WILL IMPROVE ENGLISH LANGUAGE SKILLS
At Maple Bear, with our Canadian proprietary methodology and curriculum, we are uniquely positioned to provide the best in bilingual education programming around the world. We have the experience and an in-depth understanding that young children learn languages best by watching, listening, and imitating.
As a parent at home during this pandemic, it will take commitment and patience. But with time, experience and repetition, your child will continue to grow in their English language abilities.